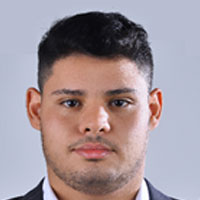 Ali
Nabulsi
Strategic partner
Ali Nabulsi is Bespoke's Strategic Partner representing GCC and Levant countries, leveraging his network with UHNWI, Family Offices & institutes through his family business, educational background, and hobbies.
Ali attended the Exeter Business School in the UK for his Bachelor's degree and Bayes Business School in London for his Master's degree in Real Estate. This unique opportunity enriched his network globally through friends, academics, and professionals and attending exclusive events.
His network developed at a young age across different industries through internships, training, and part-time consulting on family business matters. Ali's experience was mainly in Real estate as he worked at a few prominent companies in Amman and Dubai, being granted strong exposure to the investment scene in the region.
In his free time, Ali enjoys equestrian and is deeply involved in the Arabian Horse Community, attending and competing at the most prominent events globally. He wants the gathering of fellow community members to catch up on the latest updates frequently. He developed the family's breeding program increasing its reach globally and turning it into one of the most established programs locally, with the most prizes won in the past few years. Along with the equestrian, Ali is a watch collector and occasionally attends events and auctions globally, enjoying like-minded people.