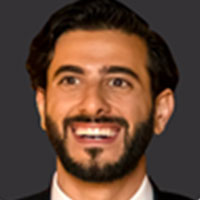 KHALED
HAJJAR
Strategic Partner representing GCC and Levant Countries
Khaled Hajjar is a talented business development and marketing professional with an exceptional understanding of Fintech, Sectech, and Regtech. With a demonstrated track record of developing and delivering profitable long-term relationships, projecting innovative ideas, marketing, and sales strategies in both the private and public sectors.
Experience ranging from an array of industries, including financial and governmental. Highly skilled at fostering new business relationships and providing exceptional customer service, solidifying client base and revenue expansion with trusted advisors and mandates.
Khaled has participated in entrepreneurial seminars and workshops with VC firms in Jordan & UAE, providing his skills in enhancing the delivery of agile, robust SMEs. During his free time, Khaled enjoys using his Certified Rescue Scuba Diving and Rock Climbing gear towards being part of helping the community become a better place.