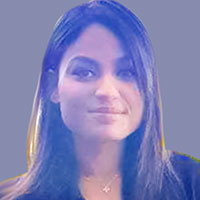 Roshanka
Ann James
Capital Introductions
Roshanka Ann James, born of Indian heritage has thrived in the multicultural and dynamically growing city of Dubai all her life. Having received a well-rounded education from excellent establishments, she has excelled in the field of debates and Public Speaking and won awards at many inter-school highly acclaimed competitions, in addition to dance, swimming, and playing the keyboard. Roshanka is a voracious reader of novels and has a keen, alert, and quick-thinking mind.

Roshanka was inducted into the Marcus Evans sales team in 2014 and a short period has proved her undoubted strength and capabilities, which have won her the Best Sales award for 2 years.

Another great honor she was bestowed with was to be consistently selected to attend and coordinate the success of private wealth management summits in Switzerland on behalf of Marcus Evans and coordinate a few other international events in Singapore which helped her grow within the organization to the position of Asst Manager. She is endowed with great wit and intelligence and her interests are traveling, and interacting with ambitious and talented people, who wish to surpass themselves in their chosen field of work.